Reading Time:
4
minutes
This may not be the first time you've ever asked yourself, "Is he/she the one?" However, picking the right investment bank and lead investment banker to represent your potential deal to the marketplace is one of the most critical decisions you'll make in your lifetime.
Sadly, many would-be sellers place disproportionate value on the wrong attributes. With the stakes being so high, don't you want to ensure you are looking for the right qualities in an investment bank and banker and that you are truly aligned as a deal team?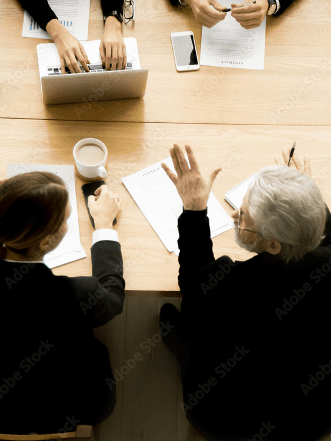 We'll assume your answer to this vital question is a resounding "YES!" That's why we urge you to consider the following list of questions as you make your selection:
Team – Will the investment bank dedicate senior resources to your transaction? Will those pitching your deal be engaged with it through the entire process—or will they simply show up at the pitch and the closing? Are you getting the A team? How busy is this team—do they have enough capacity to take on your deal?
2. Organizational fit – Is there a fit between the size of your organization and the I-Bank? Are you a good fit?
3. Enthusiasm – Do they really want to do your transaction, or is yours "just another deal"?
4. Creative or formulaic? – Does the I-Bank do deals outside of its specialty, and if so, how do those differ from deals in your space?
5. Outlier outcomes – Does the I-Bank have a track record of getting "outlier outcomes"? Can they prove it? They say, "businesses are bought, not sold ."Can your banking team sell and turn that on its ear by positioning and advocating for your business to be "sold, not bought".
6. Global Reach – When marketing your deal, will the I-Bank run global auctions to reach an international buyer pool? This is often the key to an outlier outcome.
7. Strategic value– What insights from the marketplace can the candidate provide? What competitive intelligence, buyers' activity, deal-multiple knowledge, and value drivers or key metrics will buyers focus on?
8. Positioning – How will your company's story be created, and how will it be positioned to attract the most competitive field of buyers? Does your I-Banker have the skills and persuasive ability to be your advocate and confidently answer the "Why us and why now?" question?
9. Experience/expertise – What are the depth of the case studies and examples of completing complex deals with other companies your size?
10. Stakeholder alignment – How will your I-Banker gain consensus on what a good deal looks like for all parties involved, especially those who may disagree or have differing goals? Has your I-Banker transacted as an owner, and can they empathize with the stakeholders to gain consensus?
11. Mentorship – What is the level of mentorship provided by your I-Banker on the pros/cons/implications of deals 1, 2, and 3? What degree of "Emotional Quotient" do they possess? In your gut, do you trust this person has your best interests at heart?
12. Success – What percentage of deals represented by your I-Banker actually close? For the ones that do not close, can they explain why? What are the satisfaction scores from previous clients? Is your I-Banker able and willing to provide references?
Asking the above 12 questions before you commit to a partnership is as crucial as choosing an investment banker to take you to market. It will go a long way to ensuring a successful relationship, culminating in a successful close. Choose wisely! Are the building blocks of alignment in place? Do they want this deal as badly as you do? Are they willing to commit to the appropriate resources? Do they have the experience and expertise required? Do they have your best interests at heart? Can their team overcome challenges, demonstrate creativity, and market your deal rigorously? Can they sell and negotiate well?
These are the essential attributes you should look for in an investment banker. When you ask these questions, in their entirety, versus placing misplaced importance on specialization or brand cache, you can be confident in your selection. You can then go on to co-create a great deal with your I-Banking team and achieve that outlier outcome you deserve!
Best of luck, and exit well!
Reach out to discuss the best path for your company to grow and for you to build generational wealth through the recapitalization or sale of your private company. 253-370-8893 | Craig.Dickens@meritinvestmentbank.com
As CEO of Merit Investment Bank, Craig Dickens is a cutting-edge visionary and a lead banker and principal investor—responsible for charting the firm's course, creating a dynamic culture of personalized service, and recruiting highly qualified professionals to serve Merit Investment Bank's national and international clientele. Craig and Merit Investment Bank's reach and access to world-class buyers and capital partners are imperative in serving all Merit Investment Bank clients in pursuing outlier outcomes.Craig has advised many leading companies and participates in and chairs several middle-market company boards. Known for being a trailblazer, he sets an example for the Merit Investment Bank team by being an enthusiastic deal marketer, rigorous client advocate, strong negotiator, and creative deal maker. Craig serves Merit Investment Bank's clients by skillfully guiding them toward a strategic path to rapid growth, true business value creation and optimization, and exceptional liquidity events and exits.As a successful entrepreneur, certified M&A advisor, investment banker, and angel investor, he has participated in virtually every business dynamic from start-up to IPO, merger to acquisition. Craig also serves on the management committee for CDI Global, Merit Investment Bank's sister organization, for cross-border Mergers & Acquisitions represented in over 30 countries globally. Merit Investment Bank is a leading boutique investment bank focused on entrepreneurial middle-market companies. Merit Investment Bank executes sell-side M&A, buy-side M&A, capital advisory services, debt and equity capital raises, corporate finance, and valuation, services.