Reading Time:
3
minutes
Merit Investment Bankerit Ranks on Axial's Top 20 List
Axial's Q2 2021 Lower Middle Market Investment Banking League Tables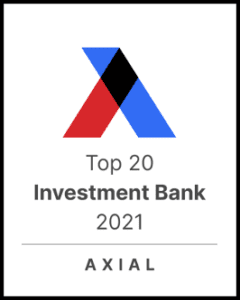 Seattle, WA: On July 8, 2021, Merit Investment Bank & Company earned a spot on Axial's Q2 2021 Lower Middle Market Investment Banking League Table. Axial ranked Merit Investment Bankerit 16th out of 854 Investment Banks on their Top 20 Lower Middle Market League Table. The award recognizes sell-side M&A advisors based on three core M&A advisory attributes: client quality, buy-side targeting, and deal process effectiveness.
"Merit Investment Bank is proud to be recognized for the second time in the last year for bringing high quality lower middle market deals to buyers through the Axial platform and our considerable private equity relationships. As a technology -investment bank, we are very supportive of tech-enabled services to help us reach a wide selection of buyers in support of our clients' liquidity goals.  Thanks, Axial for your support," says Craig Dickens, CEO of Merit Investment Bankerit.
"Greater deal visibility for our deals leads to better client outcomes. Axial's recognition of Merit Investment Bank & Company as a top 20 middle market investment bank demonstrates that our bankers are very active and that our clients get noticed when we bring them to market," remarks Joe Durnford, Chairman and Senior Managing Director at Merit Investment Bankerit.
"Together, the top 20 investment banks are those who work with the most in-demand clients; balance breadth, selectivity, and accuracy in the buyers they engage; and generate the largest number of positive outcomes for their clients" notes Axial.
About Merit Investment Bankerit
We are experts in M&A transaction execution and closing. We combine decades of experience with technical expertise, tenacity, creativity, and dedication to ensure not only that a transaction is closed, but that it is closed in our client's best interest. We deliver market-leading outcomes by applying the integrity, intelligence, insight, instinct, and intensity of a trusted advisor, with no conflicts.
We provide end-to-end M&A advisory services, utilizing our specialized M&A 2.0® process to deliver the most qualified and capable buyers at above-market prices with better terms and certainty of close. We don't just take on clients – We close deals.
About Axial League Table Methodology
Unlike traditional league table structures that have remained the same for years, where firms are assessed against deal volume and deal dollar volume, Axial league tables surface data on investment banks that reveal their selectivity, the relative attractiveness of their client's businesses, and their overall sell-side process efficacy.
The investment banks at the top of the Axial League Table are leaders across the following three categories:
Client Quality: Buy-side demand for engagements represented by the advisor.
Buy-Side Targeting: The advisor's ability to balance selectivity, accuracy, and breadth when identifying potential buyers.
Process Effectiveness: The advisor's ability to generate positive outcomes for their client.
Overall Deal Relevance: How many buy-side mandates (financial and strategic) align with the advisor's engagements.
Process Selectivity: How broad or narrow are the advisors' sell-side processes relative to their peers?
Signed NDAs: How many buyers indicate interest in each of the advisor's engagements, measured by the number of signed NDAs.
Buyer Referrals: Feedback we receive from buyers regarding the manner in which the advisor manages their processes.
Closed Deals: How many deals has the advisor closed where they involved one or more Axial buyers in the process?